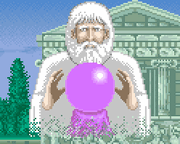 Zeus (ゼウス) is the king of the Greek gods of Mount Olympus and the father of Athena. In Altered Beast he resurrected the brave Centurions to save the kidnapped Athena from the demon god Neff. Between each round Zeus sees his crystal ball to check Athena's condition.
In the Japanese version of the game he sealed the beast men over one thousands years before the events of the game. When the underworld was attacked, Hades asked for his help, and Zeus sent an army led by Athena to defeat the intruders. However, Athena is captured by the enemies and used as a hostage, demanding Zeus and other gods to not interfere or Athena would pay the price. As the gods could not act, they decided to free the beast men in the hope that they will help them rescue Athena.
Zeus' call of "Rise from your grave" at the game's start is known as a comedic meme due to the sound processor's distortion of the phrase.
Community content is available under
CC-BY-SA
unless otherwise noted.